Socks for clogs
Look, Mizar sock No. 1 is finished!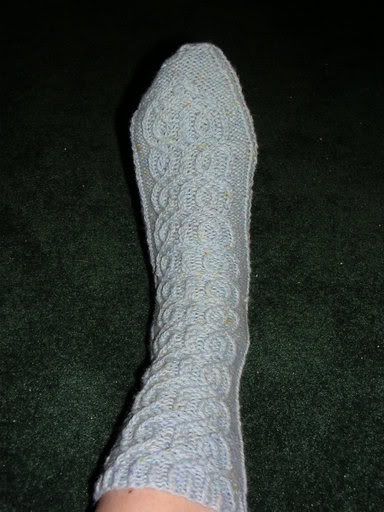 And it even fits me! A nice surprise, it looked so small and tight when on the needles.
It still feels pretty tight fitting, but I have not washed it yet, and I believe that this Shetland wool will soften and bloom a bit in the wash. I love Mizar, but when I was working on it, I half promised it to a friend with smaller feet, so I might have to give it (and its other half, when completed) away.
Still, I am happy, because the pattern was challenging enough but not a headache, and it went relatively quickly on my long DPNs, size 3 (although I thought I was working on 4s all the time!). If I have to give this pair away, I'll knit another pair on size 4 and maybe add a couple of stitches for better ease. Just for the record, I am not a sock knitter, this is only my 4th pair, but clog socks might convert me yet.
Here is a shot of the heel, to show the pattern going all the way down, as appropriate for clog wearing. I apologize for the photo, but it wasn't easy to capture my own heel. At least I waxed my legs yesterday…..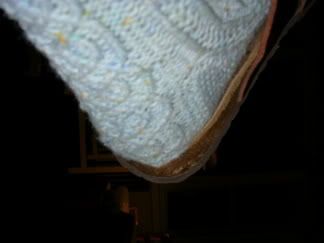 Mizar pattern from
'Socks for sandals and clogs' by Anna Zilboorg
.