A grand day out
Well, afternoon, evening, night, whatever! Yes, you have already read about it, it's all over the web, along with
Wendy
's signature belly, and yes it's all true! We had so much fun! It was really hard to leave early and I regret missing the funnest* part, involving dexterous use of Sharpies and who knows what else. While the extra batteries came with me, my camera stayed at home, so no pictures here. Except to show off the fantastic yarn I got in the swap.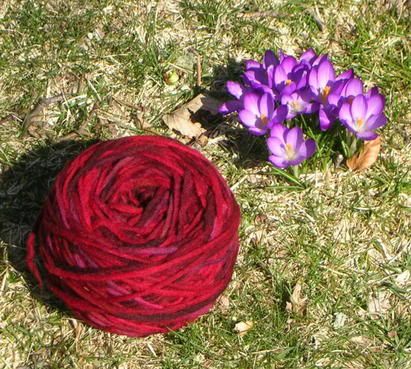 And just as well I got it and nobody attempted to swap with me, or it would have turned ugly; because this is just the perfect yarn for me, my color and my yarn philosophy all in one (check it out at
Sweet Grass Wool
). In fact, I remember growling at
Melanie
for even looking mildly interested in it.
Anyway, thank you
Debbie
for hosting us, and
Melanie,
for getting us organized, and
Maryse
,
Elisa
and
Wendy
for such a great evening. I never imagined that being a knitter would evolve in such a social and fun thing.
This brings me to my next point, something I have been ruminating for a while. I have been knitting for over 20 yrs, and have always enjoyed it. However, it is only in the last couple of years that knitting has changed from just a past-time, an activity to keep my hands busy and productive (I have to have an item at the end of it, the process itself is not enough for me), to an active interest. And that is all because of the knitting community on the web, which has opened up my eyes not only to different techniques and patterns and yarns, but to the people involved with knitting. Now, I can't figure why it happens that the knitters I meet online and in person are invariably amazing, fun, interesting people, compared to the people I may meet in other settings. I know it is not just for their knitting. I mean, the knitting is cool, but the web knitters/bloggers are the stars, by a long way.
So when I was reading
Colleen
's post a few days ago, talking about the motivation behind the 'new' knitters and wondering if they'll keep knitting when its novelty and popularity wears off, I found myself thinking 'never mind the knitting, it's the blogging community that I hope will still be there in 10 years time'. I know there will always be knitters, somewhere. But what if blogging goes out of fashion and we'll all get out of touch? That is what worries me, knitting in a vacuum, again….with not even a Sharpie in sight!!
*
my spellchecker tells me this is not a real world, but my children use it all the time, so I have now officially adopted it. I mean, my spellchecker does not even recognize blog as a real word, so how reliable can it be?