San Benedetto, la rondine sotto il tetto!
St. Benedict, swallows under the eaves!
Oggi e' il mio onomastico! Tanti Auguri a me!
Today I celebrate my name day (for lack of a better denomination for this day): it is the day that the saint I am named after is celebrated in the calendar. Since this tradition does not seem to exist anywhere else, I always have a hard time explaining this to non-Italians. While I was not named Benedetta because my parents were particularly religious or fond of
San Benedetto
, only because they loved the name, I do like this scholarly saint, whose motto was "Ora et Labora". And he is a pretty cool saint, the patron of all of Europe, no less!
This day also happens to coincide with the first day of Primavera, aka spring (I know, Italian spring is one day later than US spring), hence the saying about the arrival of the swallows building their nests under the eaves of the roof.
I love celebrating my name day, it's like an extra birthday, with lots of wishes, presents, a special meal, and when I was a kid, a big party. And because of the saying that goes with it, most people knew to wish me "Buon Onomastico" on March 21, even mere acquaintances and teachers.
Since I got married, I have instructed my husband in the tradition of name days, so we all enjoy one extra day of celebration each.
I received some lovely presents, but none knitting related, as my family does not believe in encouraging any form of addiction. While I disagree on regarding my knitting any more an addiction than, say, my reading (and it just happens that I can borrow books from the library, so my reading does not affect my budget, while that can't be said for knitting), I respect their thoughts on this and have stopped asking. Just like my mother stopped asking me to buy her duty-free cigarettes….
Anyway, I am nearly finished on my Kiri, I just need to seam it and make the frilly edge on the V-neck edges.
The sweater is very plain, all blue stocking stitch, with shaping. This is just the detail at the cuff, a double edge of frills. Pretty, no?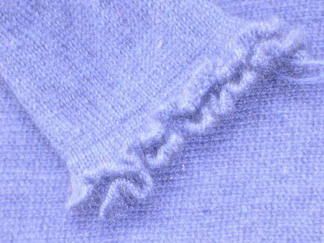 The color here is very "wrong"; in reality the blue is much darker. Hopefully I'll be able to take a truer picture once is completed.
Buona Primavera a tutti!