The Deceitful Ruffle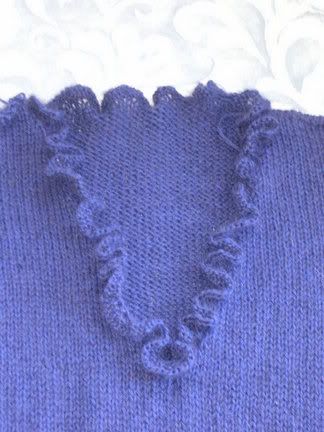 Would you believe that this ruffle along the V-neck of Kiri took me 2 1/2 hours to knit?
I innocently started around 10 pm, thinking I'd be in bed by 11, a late but reasonable week-day bedtime.
I mean, it was only 4 rows, after picking up the stitches.
By 11 pm, I was only done with the first half of the first row of increases! But I could not put it down then, right?
I tell you, casting off 435 stitches of blue yarn at midnight makes for a very sleepy knitter today!
BTW, this is a much truer color for this yarn. Now onwards to lightly block and seam.