La Befana vien di notte..
La Befana vien di notte
con le scarpe tutte rotte...
Yet another excuse for an extra celebration, (Italians are very good at finding reasons to celebrate),
Befana
brought us today a whole pile of candies!
Apparently she got lost a long time ago, while following the three kings in search of baby Jesus, and she is still wandering about depositing sweets and gifts for every child.
An old Italian tradition that I am happy to keep alive, while so many things of my heritage are long gone.
Also, this is the 12th day of Christmas, and that means that the season is really over, all sparkling decorations and lights must come down and we'd better get back to business. I usually do not mind, but this year I have very mixed feelings. Some domestic issues marred the season for us, and being here on our own was strange. So in a way I am happy that is it over, but I also feel short-changed. I hope the candy will help.
School, of course, has already restarted at full throttle, this are the last 8 weeks in class, then we enter clinics. Very scary/exciting!
Knitting is proving still a very useful and productive activity, but taking photos of my knitting eludes me, not sure why*. My new camera has been languishing. Right now I am making
"Gathered" from the last IK
, for my sister. I love the way it looks so far on me, hopefully she'll like it too (or should I hope she does not like it, so I can have it all for myself?). Anyway, no photos of it as of yet. And I am making no promises, because I hate breaking a promise, even to myself.
But I never showed you what happened to the last sweater I blogged about,
Notre Dame de Grace
. Well, have a look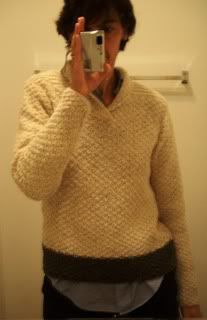 So, Zeno was disproved, the cone was depleted before the second sleeve was finished, and I had to frog part of the back to finish the sleeve, then make a top-down wide border using another yarn. Still, it is a great pattern, I wear Notre Dame a lot, and get compliments every time! A happy ending!
*
Actually, part of the reason is that my knitting photos with the new camera are mostly awful, as you can see, but I have not had the time to figure out the new toy yet, so I kinda abandoned it.