Nearly identical twins
From
Knitty
with love!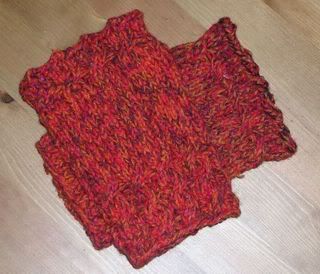 My first completed Christmas gift (never mind that it was meant for last Christmas). And my first lecture knitting project for this academic year.
I used the left overs from the Tumbling Blocks Cushion kit, 3 of the 6 colors, feeling very smug for stopping little balls of yarn from messing up my desk, and getting something nice out of it. Too smug to realize that I did not have enough yarn, and too stubborn to stop. So: orange ran out midway through the second mittens, red run out 3 rows and a thumb before the end, dark red 1 row and a thumb before the end.
And that's when having China Clouds laying pitifully in a basket around the house turned out to be useful: while it is a mistery to me why Rowan made Rowanspun DK and Rowanspun 4-ply in different shades of orange, red, green etc., the two were still close enough to be matched. Or at least, I did not let that stop me.
Nearly identical is good enough for me. And hopefully for the recipient too.