Ecco a voi…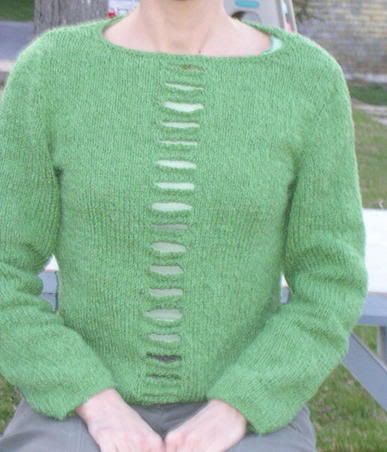 Humbug, pattern from
Rowan Magazine 37
, yarn
Rowan Summer Tweed
, color Salad.
In all its unblocked, unwashed beauty. It took longer to seam it than to knit it, just about, because seaming time (i.e. knitting time when I can actually concentrate on what I am doing) is scarce. So, as soon as I dealt with the last end, I put it on and asked my ever obliging daughter to take a picture. Cutting off my head was optional, but she managed anyway.
I like Humbug more than I expected, considering that I started it mainly to use up some stash with a pattern that I could knit when studying. Summer Tweed has a very dry feel, but it seems to get softer when handled. It also discards a surprising amount of vegetation. I am curious to see how it comes out of the wash, where it is sitting right now.
All in all, a pretty satisfactory project. And it fits me!*
For my next plain knitting project, I went back to a pattern from
last Spring IK, the Side-to-Side Ribbon top
. And I dug out the ribbon yarn that I have, Pavia, a cotton ribbon bias-cut yarn by Classic Elite (no link available) courtesy of the Great Stash Redistribution Box (thanks
Amy
and anonymous donor). I like the pattern and I like the yarn, but together they did not convince me. So I let things stew for a few days. And then things clicked:
Berroco Zen
(the yarn called for this project) is on sale at
Webs
, and Pavia would be perfect for a baby blanket, so it gets assigned to the
Pinwheel blanket
.
I am so glad when things do finally click, such a relief!
Of course, my yarn diet is in the way, but I am on my 10th project from stash, I think it might be time for a break
*
Kiri update coming shortly.