Where did the knitting go?
First, allow me to thank you all for the encouragement last weekend, when I was bogged down in papers. I am sorry for spoiling
Julia
's party, but she, and you, were very gracious and really helped me along.
Now, I fully intended to use the current two-week break between spring and summer sessions by cramming in as much knitting time as possible. However, work is relentless. And weeks of neglected laundry, ironing and other housework had to be addressed, albeit minimally.
And then there is spinning. Inspired by the recent workshop I went to, and a guild meeting, and some new fiber to play with (thanks
Michelle
!), I found myself leaving my knitting projects aside in favor of spinning.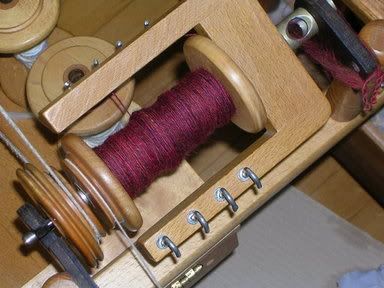 This is some slippery Merino I am spinning to make a shawl for my mother, who is recovering from surgery. The color is perfect for her: she is a true Leo-ness, with a birthday at the end of July. Hopefully that will give me enough time to spin and knit a
Kiri
.