La Bella e la Bestia
Beauty …
It is true knitting has been scarce lately, but I have some progress to show for the pretty silk ribbon yarn.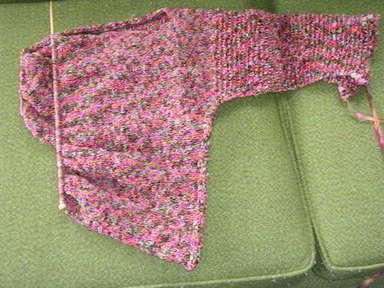 It is difficult to show sweater-in-progress when they are made in one piece, since they are all bunched up on the needles and holders. This one goes side to side, and I am a bit over 60% done.
Bello questo nastro, vero? Let's call this ribbon Bella. Bella has an annoying habit: endless twisting and coiling on herself.
I need to keep the working ball in a small Ziploc type bag, with only a little section open, and tug it out little by little and every few stitches, let it dangle to uncoil. Not conducive to quick knitting.
and the Beast …
A very beastly beast, a raw Jacob fleece, landed on my doorstep yesterday. Warning for
Melanie
: hold your nose!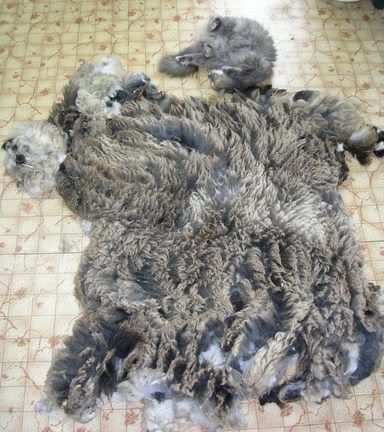 One piece of this is actually the cat, rolling on her back, ecstatic at the new sensory experience.
And here is a
close-up
, to see all the colors.
I have no idea how to deal with this beast.