Opportunistic blogging
First of all, thank you so much for your very kind comments! Feeling loved is just the best thing ever! If I have not answered you directly, it is only because I have misplaced your email address.
There is so much to say and so little time and space: I am blogging from one of the computer at my school, which luckily lets me load pictures, but it is not set up with all my links, archives etc. So opportunistic blogging it is.
All I have to show you today is my Olympic effort. Of course I knew I should have known better than signing up. And, honestly, I did not mean to. But, with being at the
pre-opening party
, where everybody was talking about it, and being Italian with strong family links to Torino (hey, I used to go sking in Sestriere when I was little!) and all that, when I read
Wendy's post
quoting some of my colorful language*, I knew resistance was futile.
My challenge was to knit a pair of socks in those 16 days. I know it does not sound like much, but for me socks usually take months to complete. Well, that may still be the case actually, but at least one was completed within the allotted time. And I am happy and gratified by the whole thing.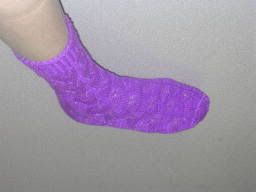 It is the 'Embossed leaves' pattern in the winter issue of IK. Do the yarn and color look at all familiar? Why, yes, they are the same of
Ms Melanie's recent socks
, from the very same batch. Like her, it was my first Koigu time, and I loved it. Definetely the best sock yarn yet, in my very limited experience.
One thing though: these socks are supposed to have a tubular cast on. The pattern refers to the glossary pages of the magazine for the 1x1 rib cast on. And I tried, and I tried and I tried... but no tubular anything came out of those instructions.
I could have done a regular tubular cast on, with waste yarn. However, I knew there was a way to do it without waste yarn. And I was determined to twist my fingers every which way I could to get it right, mostly from memory.
But no luck, eventually I had to give up and produced this.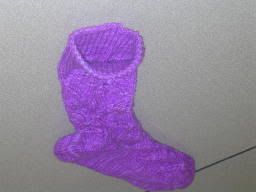 I have no idea what it is, nor how to reproduce it for the second sock. It will do but it certainly is not tubular, and it could do with being just a little bit more elastic.
* BTW 'big rack' translates something like 'tettona'